Citizens' Network of Protection
We are a 501c3 non-profit organization created to promote racial and economic justice within the legal system, prevent government overreach and abuse in the area of law enforcement, and uphold civil rights within the Evanston community.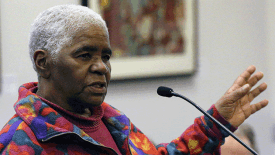 Hello to Citizens' Network of Protection's Supporters and Followers. I haven't been connecting to the community in a meaningful way since March 13. We're sorry we are currently reachable only by phone and email as COVID-19 has put a damper on our working out of the office. During this time we are working remotely to keep to our goal and mission of educating Evanston residents on their rights with the new state and city laws placed on the books. We need the voices, the volunteers and the funding to re-imagine community policing that works for everyone. Please follow us on Facebook to keep on top of the latest developments.
Betty Ester
CNP President and Co-Founder
Betty@citizensnetworkofprotection.com
Watch City of Evanston Recordings on Youtube